Källan / The Spring
:
Group Exhibition with Gallery Artists
Archive exhibition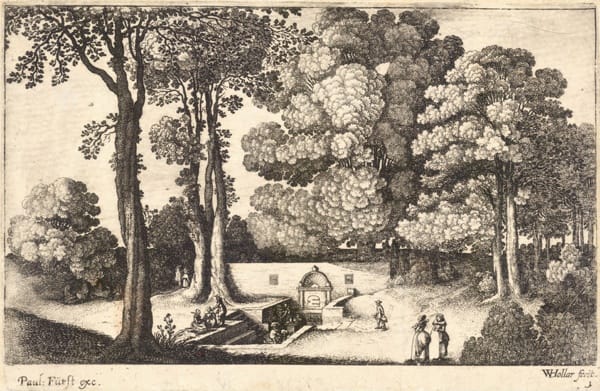 Deltagande konstnärer / Participating Artists: Mamma Andersson, Roger Andersson, Idun Baltzersen, Duda Bebek, Amy Bennett, Helene Billgren, Anna Bjerger, Mette Björnberg, Thomas Broomé, Marcel Dzama, Niklas Eneblom, Sara-Vide Ericson, Jens Fänge, Carl Hammoud, Tommy Hilding, Kent Iwemyr, Richard Johansson, Susanne Johansson, Lisa Jonasson, Johanna Karlsson, Peter Köhler, Klara Kristalova, Hans Lannér, Petra Lindholm, Ulf Lundin, Maria Nordin, Jockum Nordström, Jeff Olsson & Bella Rune
Bild/Image: Wenceslas Hollar (1607–1677), The Mineral Spring
(Scroll down for press release in Swedish)
In December 2021, the artists of the gallery received an invitation to participate in this group exhibition. The request was for them to make a work that in some way relates to another work. It could be something historical or contemporary, a work of art, a book, a piece of music or anything else that have influenced them. The exhibition has been named The Spring and it will be presented at the gallery during the summer of 2022.

All artists relate to previous works of art and other artists in one way or another. There are of course a lot of references to choose from, maybe too many? Deciding on a specific work and pointing on an individual artist can therefore be difficult. In some cases, the relationship to the source can also feel private and something you want to keep to yourself. The participating artists have chosen different paths and share their personal experiences in the exhibition.

The idea of ​​the exhibition was, in addition to highlight an important part of the artistic process, to show that the art made today could not have been made without the history on which it rests. In some ways, all art that was ever made exist side by side with what is done today. When we experience a new work of art, it is placed in front of a motley background of voices from history.

Art often strives for the innovative and unique, for something that looks or sounds like nothing we have experienced before. Maybe we can instead see the contemporary as a new chapter in a book that is never finished? Where each new line relates to the previous one and is part of a larger story.

I carry inside myself my earlier faces, as a tree contains its rings. The sum of them is me. The mirror sees only my latest face, while I know all my previous ones.
– Tomas Tranströmer
--
I december 2021 fick galleriets konstnärer en inbjudan att delta i denna grupputställning. Uppdraget var att göra ett verk som på något vis relaterar till ett annat verk. Det kunde vara något historiskt eller samtida, ett konstverk, en bok, ett musikstycke eller något annat som påverkat dem. Utställningen har fått namnet Källan och den presenteras på galleriet under sommaren 2022.

Alla konstnärer förhåller sig till tidigare konstnärliga verk och konstnärskap på ett eller annat sätt. Det finns förstås mängder av referenser att välja bland, kanske alltför många? Att bestämma sig för ett specifikt verk och lyfta fram en enskild förebild är därför svårt. I vissa fall kan också relationen till källan kännas privat och något man vill behålla för sig själv. De medverkande konstnärerna har valt olika vägar och delar här med sig av sina personliga erfarenheter.

Tanken med utställningen är, förutom att glänta på dörren till en viktig del i den konstnärliga processen, att visa att den konst som görs idag inte skulle kunna ha utförts utan historien som den vilar på. På något vis existerar all konst som någonsin gjorts sida vid sida med det som görs idag. När vi ser ett nytt verk är det placerat framför en brokig fond av röster från historien.

Konsten strävar ofta mot det nyskapande och unika, mot något som ser ut eller låter som inget vi tidigare upplevt. Kanske kan vi istället se det samtida som ett nytt kapitel i en bok som aldrig skrivs färdig? Där varje ny rad relaterar till den föregående och är en del av en större berättelse.

Inom mig bär jag mina tidigare ansikten, som ett träd har sina årsringar. Det är summan av dem som är "jag". Spegeln ser bara mitt senaste ansikte, jag känner av mina tidigare.
– Tomas Tranströmer